Discover more from Dean's List
Changing the way you think about the writing craft, creators, and culture.
👋 — Thanks for following along the last 3 weeks. This is possibly the most fun I've ever had writing. I'm feeling the Substack effect. The twice-a-week cadence, while stupidly ambitious, is a real shock into action. More essays and experiments on the way.
I've made no effort to get my work read and I'd like to change that soon. I unfortunately have little bandwidth to design Girl-Scout-cookie-grade viral campaigns, so I'll have to keep it simple. If you've been enjoying Dean's List, scream it from the roof (or, here's a button).
---
---
Agenda:
DECONSTRUCTED: Last week, I shared a piece called Resurrections On-Demand: Put LSD Back in the Communion Wine. This is probably the craziest idea I've ever published. I've been carrying this whale for 10 years, and hope to expand on it in the future. In case you didn't catch the essay, here's a footnote summary.4 Today I'll unpack an idea that was crucial in helping me edit this thing: Saturation.
---
Saturation
DECONSTRUCTED #3
Subscribe for free to get essays on Wednesdays, and a behind-the-scenes breakdown on weekends.
---
My first draft of this essay was almost as dry as an academic paper. Sure, I did mention one quick story in the beginning. Personal writing? Check. But then I exploded into a detailed play-by-play of an Ancient Greek odyssey; Michael Dean was nowhere to be found. Midway through the Google Doc,
left a refreshing comment:
"Why do you care about this!?"
Of course! I got so bent on 'unpacking the mysteries,' that I went on a 1,500 word rage without including even a splash of personal relevance. What happened? I got insecure. Since the thesis is kind of batshit crazy, I obsessed over perfecting the theory's logic; losing sight of the human element.
So how much personal do I need to weave in? It's not about volume, but spacing. Sometimes all you need is one sentence to remind your reader you still exist. Sometimes a story is the organizing device of an essay, but in other cases (like this one), you can sprinkle them in.5
By blending stories into ideas, the author has a constant presence. Every 250-400 words, I check back in.
We should avoid one-off globs and focus on weaving the important elements all the way through; whether it's stories, a voice, or a theme. The essence of a piece should saturate the whole essay.
If you want a theme or tone to be felt by the reader, it needs to be
distributed
across
the essay, from top to bottom. It can't just exist in one spot; it needs to return at a regular cadence to reinforce itself.
---
[ Voice ] comes from [ personality ] saturating the page.

[ Vulnerability ] comes from [ stories ] saturating the page.

[ Cohesion ] comes from [ related ideas ] saturating the page.
---
Whether you want to be more playful, personal, or observational (see: POP Writing), it helps to understand saturation.
How do we pull this off? Highlighters.
Pick a color, pick a theme, and read your draft through a single lens. If you see the theme popping through, highlight it. By the end, if the whole page is saturated with that color, you're good to go. If there are dry patches, start editing. These moments are where your theme gets fuzzy and out of focus.
This essay was boring AF until I started using the cyan highlighter. At first, it was sparse. I kept editing until there was at least a splash of cyan in each paragraph. It's a visual indicator of voice.
The topic of my essay is usually serious and stuffy. I wanted to bring in an irreverent, personal tone; something you don't find in academic papers. I focused on each paragraph until words, memories, metaphors, or phrases came to mind. I wrote the paper as if I was presenting it to a head thesis advisor, but I edited it as if I were telling a story to my friend at a bar.
You can also think about saturation when it comes to reinforcing your main idea. This one's funky; a semi-advanced form of reverse outlining:
I wrote the main idea in one sentence.

I picked one word to focus on — "ritual."

I wrote a reverse outline, but every bullet point used the word "ritual."
This ensures that every beat of the essays cover "ritual" from a different angle. I'm basically rotating around a single word. I pivot around a center until the reader fully understands it.
I'll revise this reverse outline until the essay arc can be re-told through a single word. Example:
The Christian RITUALS I've experienced are underwhelming.

What is the actual goal of a RITUAL?

Can psychedelics help RITUALS achieve these goals?

Etc. — on and on, until the end.
Once the outline is tight, I'll check back to the draft, and revise any sections that seem to stray from the updated outline. Often, I'll just add a sentence to connect home to the core idea.
No matter what you're editing for, you can use saturation and spacing to bring themes into focus.
---
Here's a link to the published essay in case you want to check it out: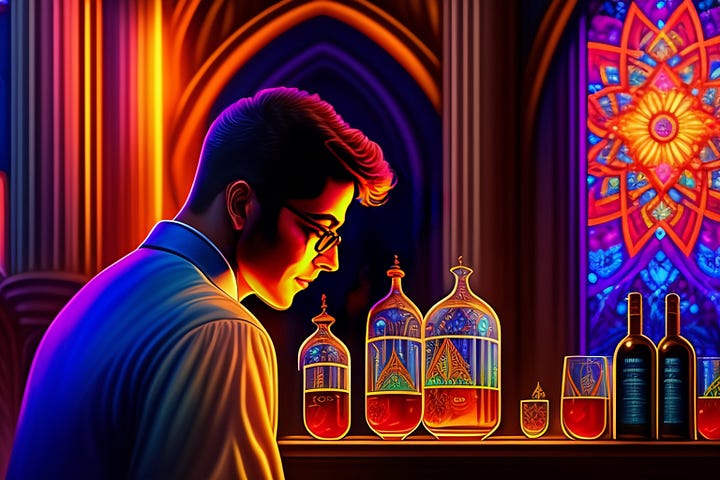 ---
Let's riff:
What writing skills are at the edge of your ability? (rhythm, stories, voice, word-choice, coherence?). Try isolating one thing during the editing phase. Pick a skill, pick a color, and try it out. What will you try to saturate in your next essay?
---
Footnotes:
1
I've been having consistently weird dreams — and I don't know if these come from re-watching the Lord of the Rings trilogy, a newly developed ginger beer problem, or molting.
2
I've been using Lexica.art to generate the artwork for my essays. Sure, the images generate quickly, but it's a semi-involved process to get the image you want. There's a gap between the first render and what you see in your imagination. It takes iteration. To get the 7 images I used, there were 850+ generated. Note: Lexcia costs $30/month for 3,000 images.
3
After last week's Flash Feedback post, people reached out and asked, essentially, "where do I find feedback buddies?" I had a wild idea to use Substack Chat to facilitate feedback between all my subscribers. We'll see if it happens. The one bottleneck is that Substack Chat only works on mobile, and leaving feedback in gDocs on mobile can be funky.
4
Summary of Resurrections On-Demand: The rituals I experience in church always feel like something is missing. But as I look into the roots of Greek Orthodox Christianity, it seems like it's based on an ancient psychedelic resurrection ritual: the Eleusinian Mysteries. Basically, it was a Lord-of-the-Rings-scale epic; an adventure you could attend once in your life. Through brainwashing, ritual, fasting, and an acid-like fungus brew, the priests triggered a "shared hallucination" across 100s of people at the same time. What did they see? Their Goddess resurrected from the underworld. If we reverse engineer this ritual for Christianity, it could mean the resurrection of Christ transforms from a supernatural belief into a mystical experience that's yours to claim.
5
Stories are a form of personal research. They're unique to you, and untouchable to AI (unless you feed it your journal entries.)